Description
Greetings and welcome to the 2023 Yi Peng Lantern Festival in Chiang Mai, organized by the talented team at Chiang Mai Arts and Design (CAD). This beautiful event has been a tremendous success, bringing joy and fulfillment to all who have participated. Now, we invite you to come and join us in creating unforgettable memories. Let's release lanterns into the sky and leave all our worries behind, making wishes for a bright future ahead. Come, let's celebrate and make this Yi Peng a memorable one!
Join us in
Chiangmai CAD Khomloy Eco-Friendly Sky Lanterns Festival 2023
Indulge in the endless array of delicious traditional northern Thai food, snacks, and drinks that await you. Spend the evening surrounded by fantastic performances and shows. Don't forget to grab a souvenir from the festival to remember this special occasion. Take part in a variety of exciting activities and join us in a moment of prayer and meditation. Then, watch as we launch glowing lanterns into the sky in worship of Phra Ket Kao Jura Mani, and bid farewell to bad luck and misfortune. Come and make this an unforgettable night filled with good food, fun, and making wishes for the future.
We extend a warm invitation for you to join us and be a part of the one-of-a-kind celebration at the Chiang Mai CAD Yi Peng Khomloy Sky Lantern Festival 2023. Immerse yourself in the authentic Lanna experience and create unforgettable memories during your travels in Chiang Mai. This is a special opportunity to fully embrace the culture and enjoy the best of what the festival has to offer. We can't wait to welcome you and make this a celebration to remember!
Standard
Yi Peng Entusiasts
Premium
Yi Peng Supporters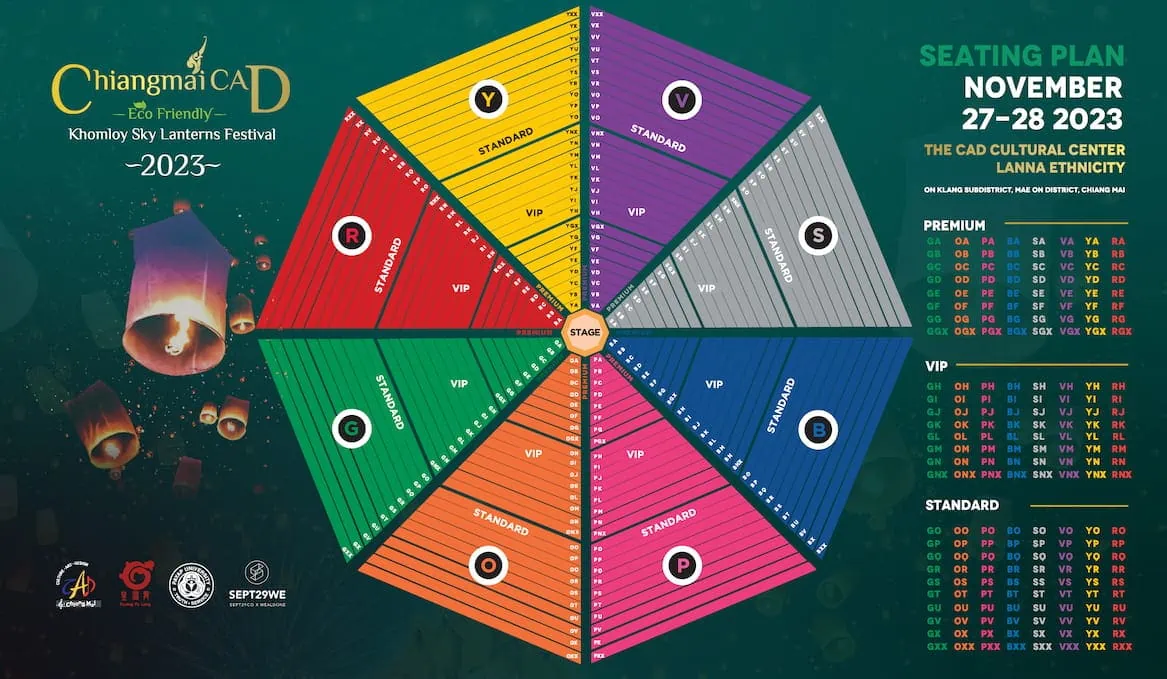 Schedule
Meet at the meeting point
Meet at the designated meeting point to register your ticket.
Gate opening
Upon arrival, be prepared to immerse yourself in the rich history of Lanna through our cultural performances. Don't miss out on the exciting demonstrations of boxing and sword making. To ensure you fully experience this breathtaking event, be sure to plan your trip ahead of time and arrive at least 1 hour before the ceremony begins, no later than 6:00 PM.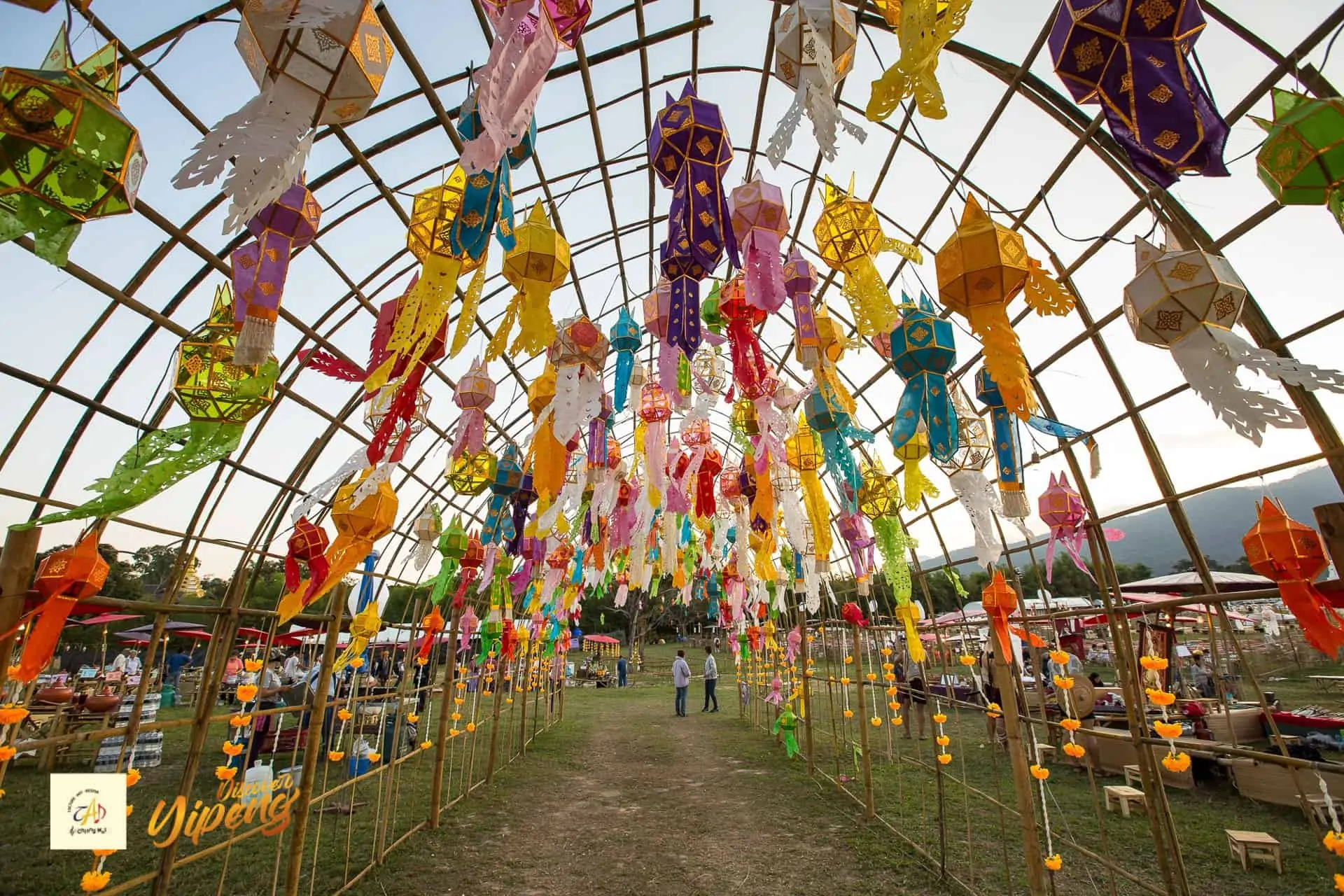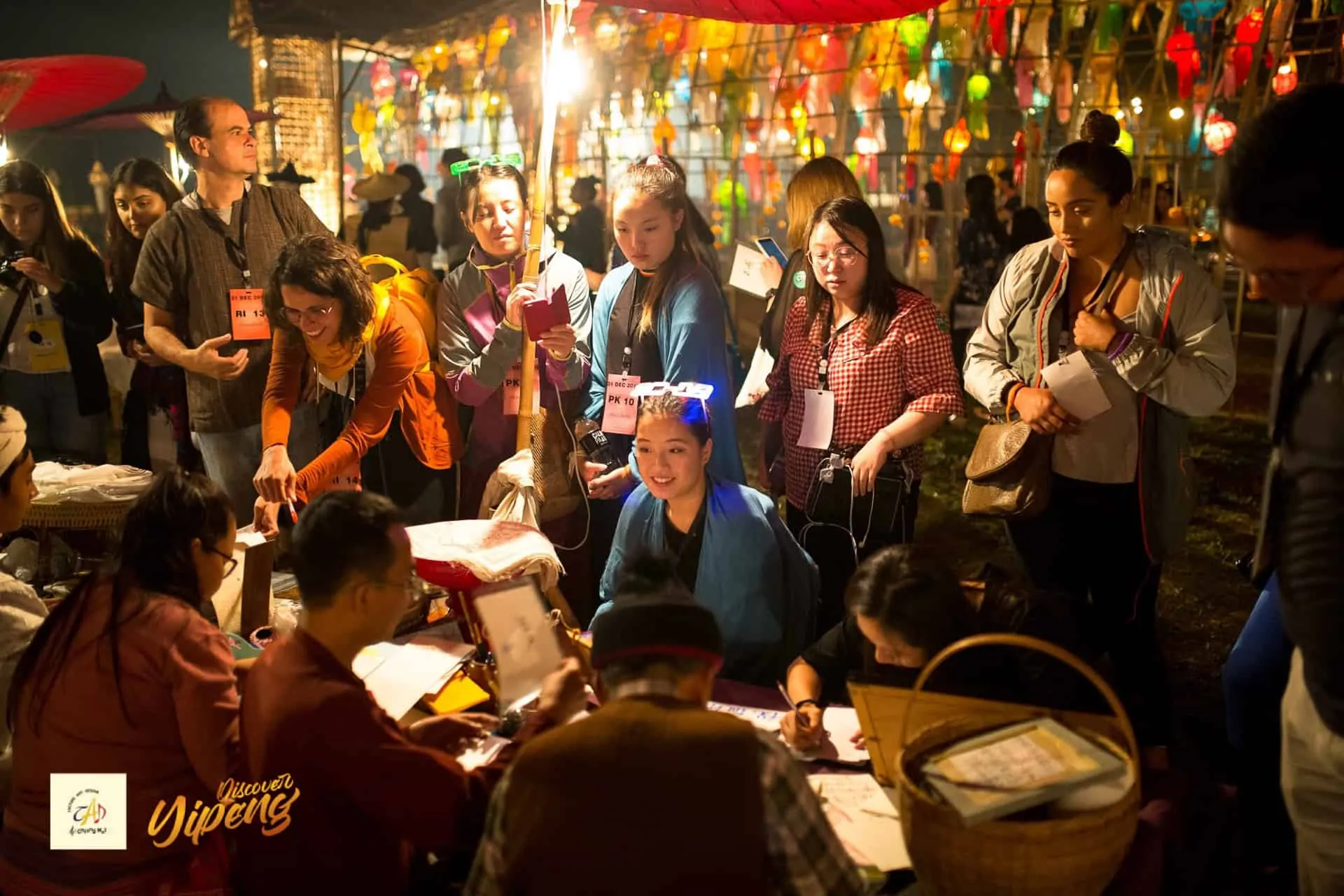 Prepare for Grand Ceremony
Enter the ritual in front of the great pagoda to prepare the religious ceremony. All honorable guests and tourists enter the ceremony area. Chanting 20 minutes and 10 minute for Meditation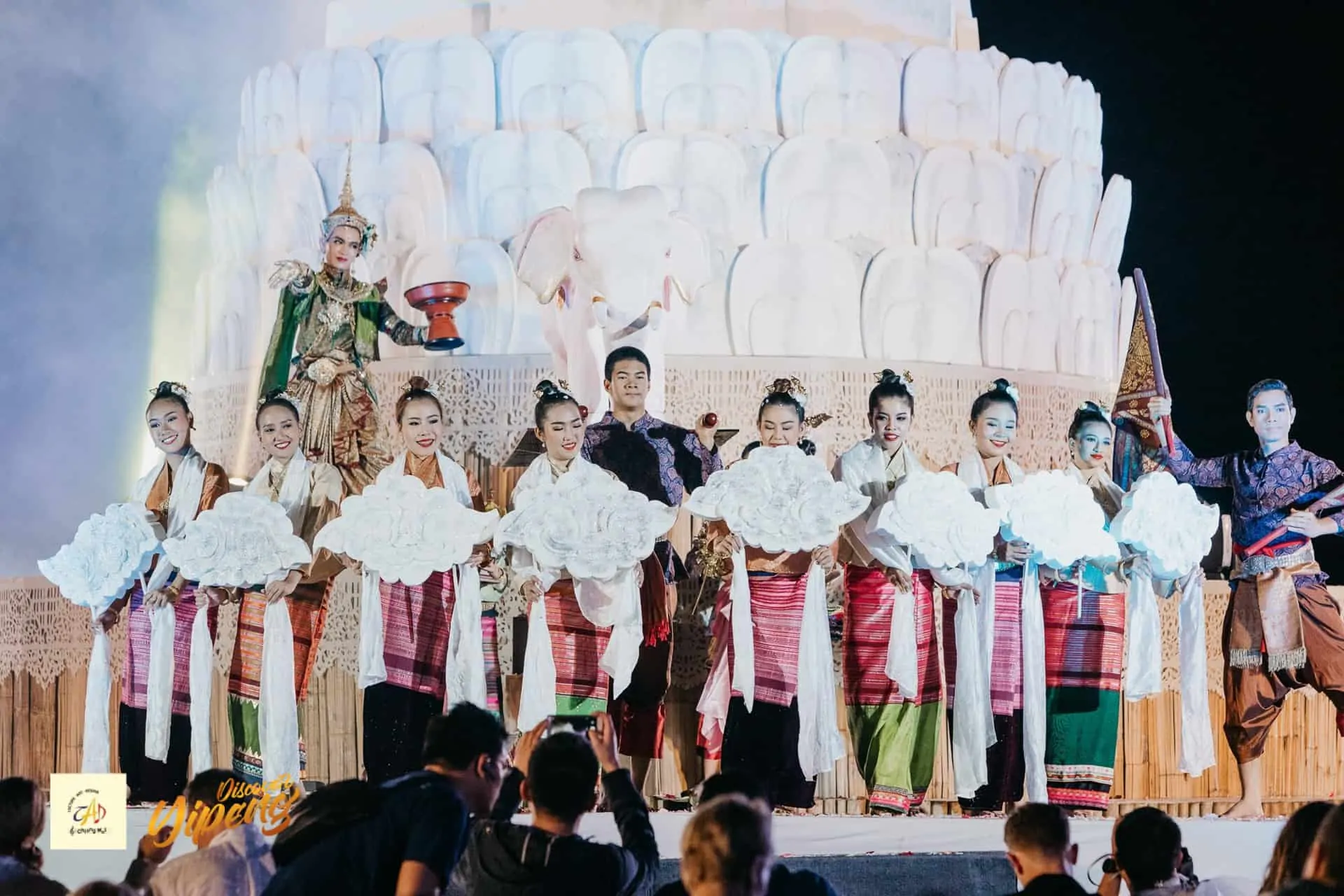 Lantern Release
Make wishes and releases the lanterns into the sky together with all the guests creating the most magnificent moment of the night.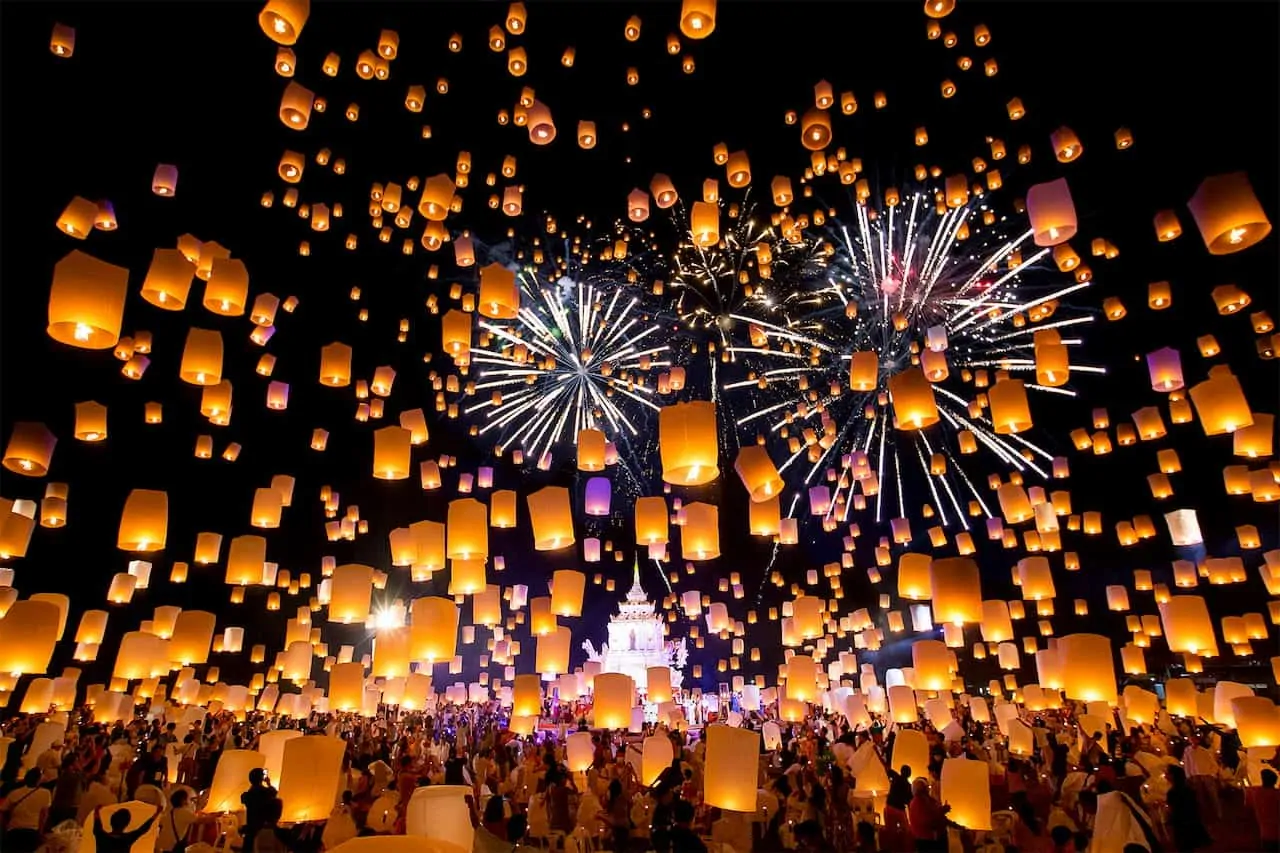 End of Ceremony
Good bye is hard to say after having such a great time together. We hope to see you next year!
Transportation
Transportation is included. Standard Ticket is based on RED CAR transport. Premium and VIP are by VAN. From (15:30 -18:00)
MAYA Lifestyle Shopping Center Location 18.802014, 98.967564
Sky Lanterns
Krathong
Dress Code
Polite clothing, Traditional Thai or Lanna clothing.
Venue: Mae On, Chiang Mai
Policies regarding children
Children from 0-7 years old are free to enter the festival area.

 

The number of children cannot exceed the number of adults. (Example: 2 Adults 3 Children)

 

Children are free to enter buffet food area with adults.

 

Seats are not provided. Children are required to sit on laps.

 

Transfer not provided. Children are required to sit on laps.

 

Strollers are allowed in the festival. However, please be reminded that walking paths may be uneven and not suitable for strollers.

 

Outside chairs are not allowed at the festival.

 

It is the responsibility of the parents to ensure the safety of their children during the event. The organizers of the event shall not be held liable for any injuries or damage that may occur. Participants are advised to take necessary precautions to ensure their well-being during the event.

 
Security
Provide ambulance service for tourists in the event of an emergency.
Provide Fire Truck and rescue teams to ensure safety in case of emergency
Provide police officers with the safety of visiting tourists.
Because rituals prayers, meditation, and launching lantern are an important part of the Buddhist ritual should follow the instructions of the MC are strictly for peace of mind and security
Firecrackers, sky lanterns, weapons, gambling equipment, illegal objects including alcoholic beverages are prohibited.
Participants are kindly requested to dress in Lanna Thai attire costume or polite clothing.
Participate in religious activities with respect and peace for the sanctity of the ceremony.
No drinking alcohol & No Smoking